In our phone calls and chats with customers, many ask about the Ibex Drawbar Kit–what it does and what baling situations warrant one. This blog will attempt to answer these questions while providing links to videos and other information that should help you determine if a Drawbar Kit would be a useful addition to your baling operation.
First, what is an Ibex Drawbar Kit?
A Drawbar Kit includes everything you need to convert your 3 point hitch baler to drawbar operation. A crossbar is supplied that installs in the tractor's 3 point hitch arms and includes an extra long PTO shaft. No tools are required for installation, and converting back to 3 point operation can be done in under a minute.
Why might an Ibex Drawbar Kit be useful?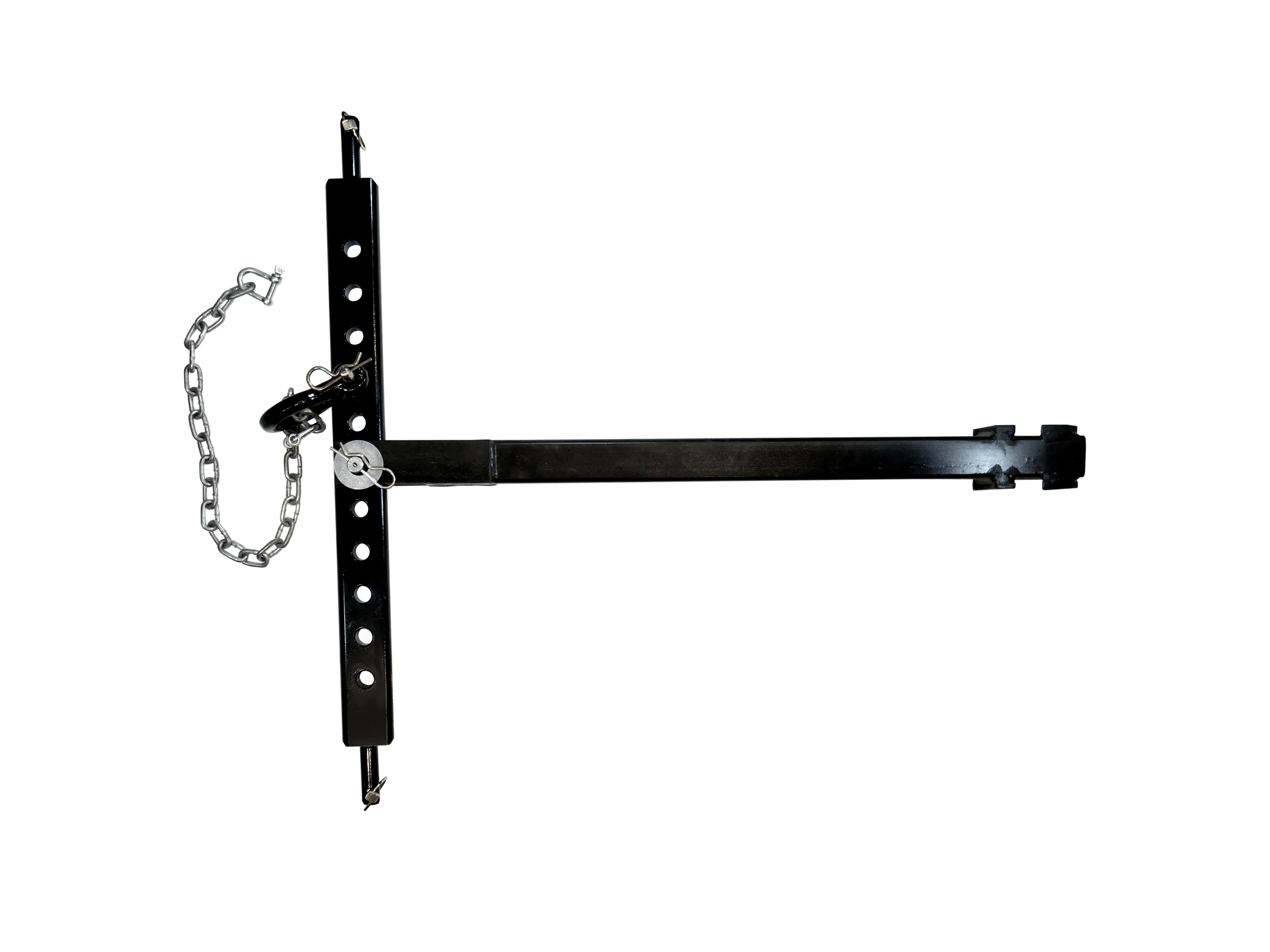 First, a Drawbar Kit simplifies connection to the tractor. Because the baler is attached to the tractor with a single pin, connecting the baler becomes much simpler. You can back your tractor up to the baler, align the holes, and drop the pin in place. Once connected, all you need to do is set the low-limit chain on the pick up, and you are ready to go.
Second, with the Ibex Drawbar Kit there is no need to pick the baler up off the ground. With standard 3 point connection, turning can be difficult without elevating the baler. This may not be possible with many small or older tractors.
Third, a Drawbar Kit allows the baler to be adjusted from the tractor seat. Using the 3 point hitch lever, the baler pickup can be quickly raised or lowered to adjust to changing terrain or field conditions. This can come in handy when encountering an obstacle in the field like a rock or gopher mound.
Fourth, more space is made between the tractor and baler with a Drawbar Kit. This increased space makes it easier to see the baler pickup from the tractor seat. The extra space also leaves more room to feed forage into the baler when it is stationary.
Lastly, a Drawbar Kit allows for better tracking on meandering windrows. In fields where windrows are full of corners and curves, a trailed implement will do a better job of following the path of the tractor, leading to more effective pickup of the crop. This allows you to leave less forage in the field.
Tractor models for which a Drawbar Kit is generally recommended include, but are not limited to, the Kubota BX series tractors and the John Deere 1 series tractors. Ibex Mini Round Balers are the only mini balers available in the US with the option of drawbar connection. These Drawbar Kits were designed in house to Ibex specifications and are manufactured in the USA.

To see an Ibex Drawbar in action, click here. To learn about drawbar installation, click here. If you have further questions about the Ibex Drawbar Kit or its usefulness for your specific haying operation, please visit our website or call 260-BALE-HAY and ask to speak with one of our customer service representatives. Happy Haying!
Recent Posts
You have one of our Ibex TX31 Mini Round Balers with Twine Wrap, and now you are wondering what type …

Here at Tractor Tools Direct, we receive many inquiries about sickle bar mowers. While at one time w …

Since opening in 2013, Tractor Tools Direct has been operating under the motto that "compact tractor …