Some of our products, like our Ibex TX31 Mini Round Balers and other hay implements, are so popular that they are often sold before they hit our warehouse! For this reason, we allow pre-orders on certain purchases to ensure that the item you need is sent to you as soon as it arrives from our manufacturer. Waiting for the item to actually arrive before ordering risks the item being sold-out before you have a chance to make the purchase. You don't want that!
A quick way to tell if we at TTD are accepting pre-orders on a piece of equipment is by checking the product pages on our website as shown in the accompanying photo. The status of our inventory is updated daily.
If you do find that the product you want is on preorder, a preorder can easily be made on our website with a full payment. A preorder can also be made by calling 260-BALE-HAY. If calling in your preorder, we require a 20% deposit. At that time, your price is locked in even if our price goes up before your item arrives at our warehouse.
Once you have made your pre-order you can learn more about your piece of equipment while you wait for it to arrive. Our site is loaded with brochures, manuals, and videos to help you hit the ground running as soon as your implement reaches your farm. To learn more about how to prepare for your item's arrival, be sure to check out the Prepare for Shipment link on our homepage shown here: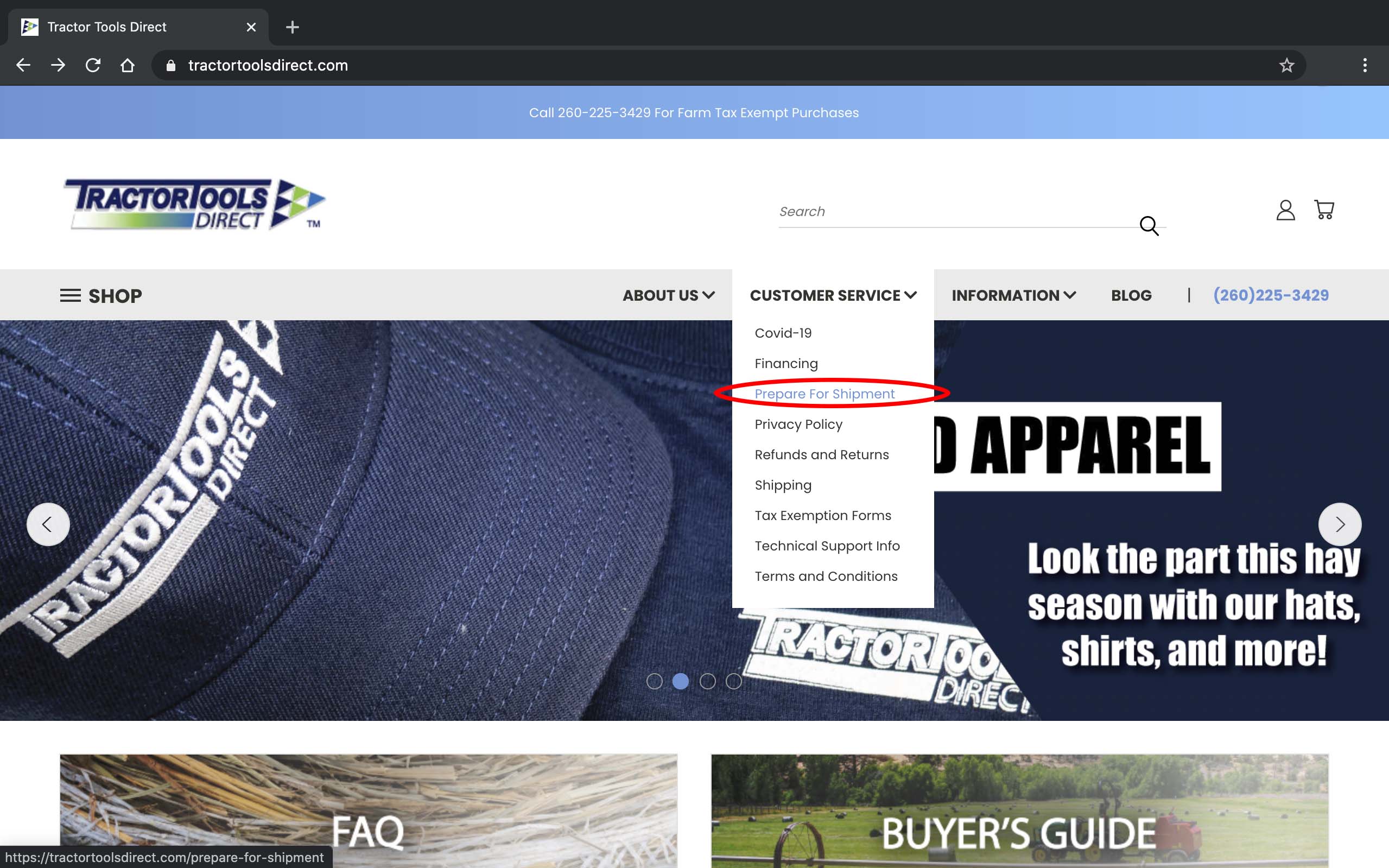 Once your item is pre-ordered, you will receive regular updates by email regarding the ETA for your implement as well as any further payment or shipping information we need from you. We strongly recommend that you pay the balance on your equipment as soon as we know the date of its arrival to our warehouse, at the latest. That way there will be no delay in our ability to ship it straight out the door to you once it arrives here.
We at TTD are proud of our customer service offerings. Allowing pre-orders is just one way we make equipment purchases even easier for our customers. A simple click or phone call to reserve your needed implement on our next shipment will save time and enable us to get your item to you when you need it. Please give our customer service team a call to learn more at 260-BALE-HAY.
Recent Posts
Drum mowers, as a general category, are sturdy, low-maintenance machines designed for the compact tr …

"What is a lift kit, and why might I need one?" This is a question we get here at Tractor Tools Dire …

In our phone calls and chats with customers, many ask about the Ibex Drawbar Kit–what it does and wh …