TS52 Hydraulic Offset Flail Mower
SKU:

DMFM132F

UPC:

MPN:

Condition:

New

Shipping:

Calculated at Checkout
Description
Our Ibex TS52 Hydraulic Offset Flail Mower is the perfect choice for tough mowing situations that can't be reached with a typical rear-mounted mower. Use your front loader hydraulics to adjust how far to offset the mower to the right, as well as how much to tilt it up or down, all with the PTO engaged!
Use your front loader OR STANDARD REAR REMOTE HYDRAULICS IF APPLICABLE.
The Ibex TS52 Hydraulic Offset Flail Mower will change the way you approach tough mowing jobs forever. It works as a standard rear-mounted flail mower, easily chopping through thick grass, brush, and even small saplings. But where it really shines is in the offset position, allowing you to reach under overhanging branches, into ditches, under fences, along pond banks, and any other place where your tractor won't fit or can't safely travel. It also means you can cut overgrown areas without driving over the material first, meaning a better, more complete cut. This machine uses your tractor's standard front loader hydraulics, so there is no need for rear hydraulics or tractor modification. You can also adjust the offset on the fly as you cut, so following an irregular fenceline or going around poles is easy. This feature will greatly reduce your need to go back with a string trimmer to finish the job. Our flail mowers come fitted with a full set of "Y" blades which are designed for the versatility of cutting through tough brush while also offering a nice cut to any lawn or pasture.
With the Ibex TS52 Hydraulic Offset Flail Mower, manufactured by Del Morino of Italy, you'll increase productivity and safety, and get more use out of your compact tractor!
Use your front loader OR STANDARD REAR REMOTE HYDRAULICS IF APPLICABLE.
PTO shaft included. For cutting instructions, click here.
| | |
| --- | --- |
| Model | TS52 Hydraulic Offest Flail Mower |
| | |
| | |
| | |
| | |
| | |
| | |
| | |
| Min. Tractor Engine Power | |
| | |
| | |
| | |
| | |
| Length of Hyd. Hoses Beyond 3 Point Hitch | |
| Minimum Tractor Width (in.) | |
| | |
| | 2" Diameter with Y Blades |
| | ISO 5675 Agricultural 1/2" Quick Connect Male |
* The cutting height depends not only on the position of the roller but also on the inclination of the mower, which is controlled by the top link. The cutting heights listed in this table are measured when the mower is parallel to the ground.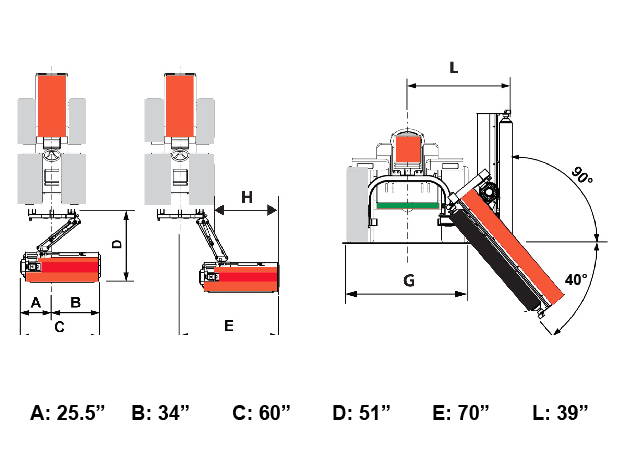 | | |
| --- | --- |
| Delivery Type | Continental US |
| | |
| Freight (Free Lift Gate Service) | Place in cart to calculate shipping. |
Slightly larger than the subcompact series, these implements will increase productivity while still working on smaller compact tractors.

EXAMPLES:

TYM TM234
Kubota B Series
John Deere 2 Family

*These are some examples of tractors. For implement compatibility check the product specifications. Call us to ensure that your tractor is a perfect fit:

(260)225-3429. We're here to help!
View All
Close
Additional Information
| | |
| --- | --- |
| Discounts: | 5% off on all 2 implement purchases, 10% off on all 3 implement purchases |
View All
Close
Other Customers Have Also Bought: