Description
This is our smallest drum mower and is designed for subcompact tractors. Simple in design and durable, it is easy to use and will give you years of trouble-free service. With a 45" cutting width and fast cutting speeds, this mower will outperform a sickle bar mower in the tough conditions of a hay field.
The TX45 drum mower is designed for the small-framed tractors so popular with today's landowner. Designed specifically for the lighter weight, narrower width, and smaller 3 point hitch of subcompact tractors, these mowers will cut faster and with fewer problems than other options.
The design of a drum mower is mechanically much simpler than sickle bar mowers. For nearly all hay cutting applications, it is a superior design that cuts faster with fewer problems. The drum mower design, which has been very prominent in Europe for decades, is finally gaining popularity here in the US, and rightly so.
A drum mower has only two large counter-rotating drums. These drums create a great deal of inertia, helping you to power through the thickest hay conditions. The drums are powered from above by a simple gearbox. They use only four inexpensive, reversible blades per drum. The blades can be easily sharpened or simply replaced when dull. Replacing a blade is a simple process. This simplicity in design makes them easier to use and maintain, while also making them more durable.
The TX45 uses a durable shaft-driven system. Shaft drive means no belts to come off, slip, or break at the most inconvenient times.
This machine is quality crafted in Italy, with a proven design in use for over 20 years. Every drum is factory tested to be dynamically balanced, reducing vibration and prolonging machine life. When you buy this mower, you can count on a quality machine that will give you many years of trouble-free performance.
PTO shaft included. For cutting instructions, click here.
| | |
| --- | --- |
| Model | TX45 Drum Mower |
| | |
| | |
| | |
| | |
| | |
| | |
| | |
| Min. Tractor Engine Power | |
| Max. Tractor Engine Power | |
| | |
| | |
| | |
| | |
| | |
| | |
| | |
| | | |
| --- | --- | --- |
| Cutting Height without Lift Kit | Lift Kit Adds: | Max Height with Lift Kit: |
| | | |
*Cutting heights are approximate and can vary based on ground conditions as well as point of measurement.
Are these the smallest drum mowers on the market?
YES! These are in fact the smallest and most compact drum mowers in the US! These are perfect for the subcompact and smaller compact tractors between 18-30 horsepower, and they are much easier to use and maintain than a sickle bar mower.
My tractor has more than 30 hp. Can I still get this mower?
We do not recommend using this mower with larger tractors that are outside of the stated specifications. The components of the mower are designed to accept a certain level of workload. Please see the specifications tab for more specific details on tractor compatibility.
How short/tall will it cut?
See our cutting height guide in the specifications tab for information on cutting height.
How does it ship and does it come assembled?
These mowers are shipped via LTL freight with liftgate service and require some assembly. They come with assembly instructions and our support team is just a phone call or email away to help with any questions you may have.
How much maintenance is required?
Preventative maintenance is important to perform on any agricultural machine or farm equipment for longevity of that implement. Simple greasing, oil changes, blade replacement, and checking for loose or worn components will dramatically help lengthen the life of this implement. These machines will last a lifetime with proper use and maintenance.
How does the warranty work?
All Ibex implements come with a two year defective parts replacement warranty. You can find full warranty details here.
Do you have parts on hand if needed?
We stock a wide variety of parts right here in our Indiana warehouse! Some of our parts are available for purchase directly on our website and you can always give us a call for assistance. We are happy to help get you what you need quickly. We offer expedited shipping as well, for those times you need a part as soon as possible.
Is it belt or shaft driven?
This mower uses a direct shaft-drive system. You don't ever have to worry about a belt slipping in the middle of the field or worrying about having to tension the belt tensioners. Direct shaft drive also provides you with the most power transmission and less power loss from your tractor directly to the machine, giving you the most out of your mower in the field.
Does it have an overload protection system?
The PTO shaft that connects to the tractor has a shear bolt on it, which protects the mower from mechanical overload. The secondary PTO shaft has an overrunning clutch which allows the drums to continue spinning while they wind down after the tractor's PTO is turned off. This prevents the mower from back-driving the tractor PTO.
Does the TX45 have a safety release system?
This model does not have a breakaway protection feature.
How long do the blades last?
The blades are double sided and can also be sharpened for prolonged use. How long they last will depend on how many acres you are cutting and the type of material you are cutting. We sell replacement blades and you can find them on our website.
Does it come with oil in the gearbox?
These mowers do come with oil in the gearboxes, however we recommend checking the oil to ensure proper levels upon receipt and before your first use.
Are there any assembly videos or instructions?
Yes, we have both an assembly video and assembly instructions. The video can be found on this page in the Product Videos section near the bottom of this page.
Will it cut ditch banks?
No, drum mowers are not designed to be used to mow ditch banks as the incline of the cutter unit cannot be adjusted at a steep enough angle.
Will it tear up my field?
Drum mowers will not scalp your field if they are run properly. The bottom of the drums does slide along the ground, but the concave shape of the bottom skid plate will keep it from causing damage.
Can I raise the mower up to get a taller cutting height?
Drum mowers are designed to be set on the ground the entire time during the mowing process. The bottom skid plates must never be raised up while the drums are spinning. The skids have separate bearings that will allow the bottom skid to easily follow the contour of the ground. Raising the drum unit during mowing can cause debris to fly at dangerous angles and can result in serious damage, injury, or death. This can also damage the mower as it not designed to bear suspended weight spinning at a high speed. In addition, the crop will not be cut an even height this way. Cutting height should only be adjusted by adjusting the length of the top link, or by adding a lift kit.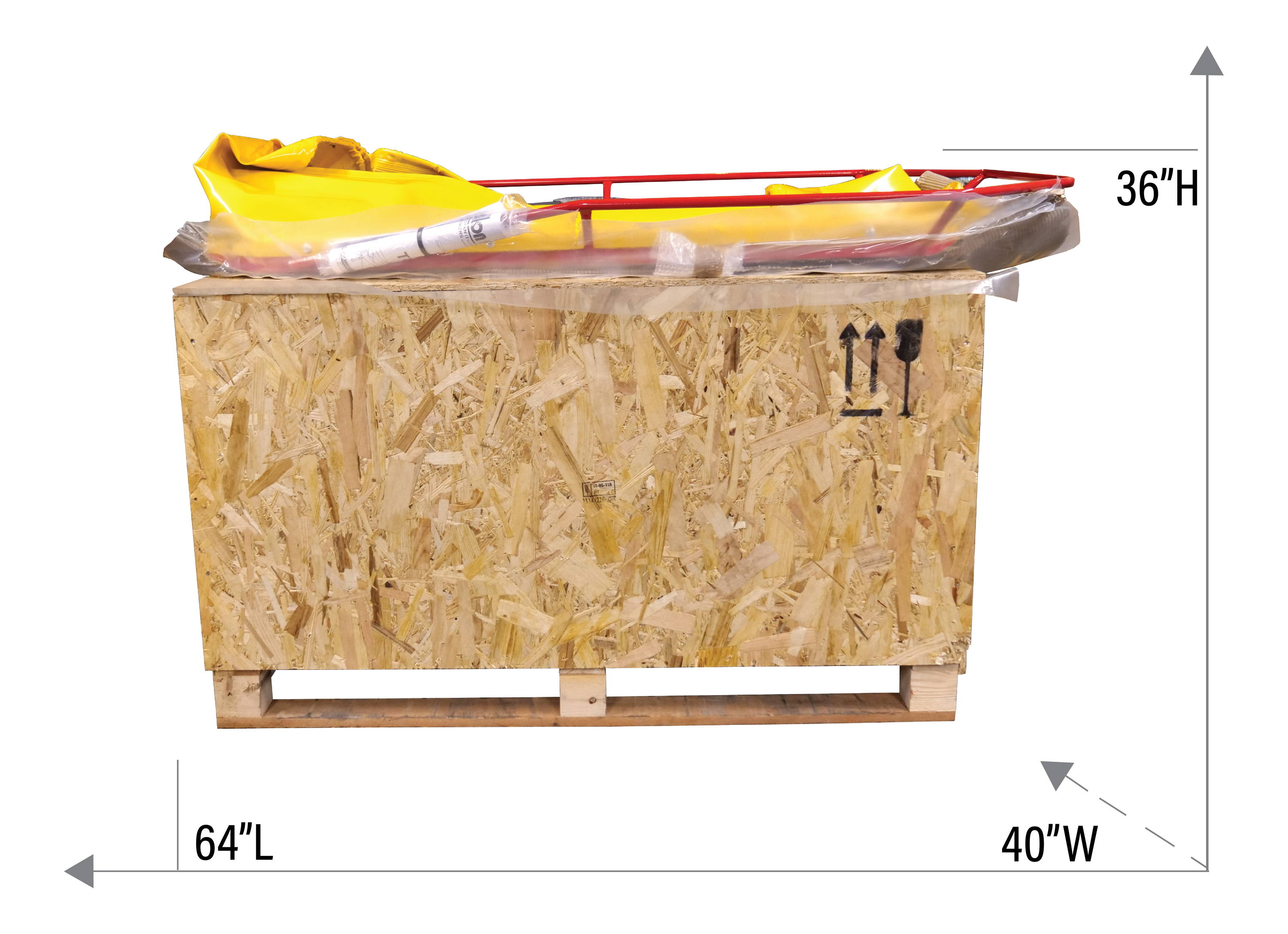 | | |
| --- | --- |
| Delivery Type | Continental US |
| | |
| Freight (Free Lift Gate Service) | Place in cart to calculate shipping. |
Machine requires assembly.
Ideally suited to subcompact tractors and older greymarket tractors from Kubota, Yanmar, and etc...

EXAMPLES:

TYM T254
Kubota BX Series
John Deere 1 Family

*These are some examples of tractors. For implement compatibility check the product specifications. Call us to ensure that your tractor is a perfect fit:

(260)225-3429. We're here to help!
View All
Close
Additional Information
| | |
| --- | --- |
| Tractor Compatibility: | Engine Power 18 - 30 HP |
| Discounts: | 5% off on all 2 implement purchases, 10% off on all 3 implement purchases |
View All
Close
Other Customers Have Also Bought: