"Why not just buy a square baler?"
This is often an inquiry we receive here at Tractor Tools Direct when marketing our Ibex and Abbriata mini round balers. While we concede that there are some situations when a square baler is more appropriate, there are several reasons why a mini round baler is the perfect implement for many small-farm operations.
Advantages of the mini round baler are: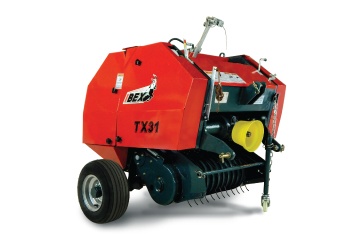 Very low horsepower requirement. A mini round baler needs only around 15 horsepower to operate.
Lighter weight. Round balers weigh much less than square balers. This means they are safer to operate on hills, and tractors of any size can easily pull them.
Simpler design. Round balers are simpler machines than square balers, with fewer adjustments required and fewer parts to break.
Smoother operation. Square balers "kick" up to 90 times per minute. On a small tractor this constant jerking motion can be somewhat fatiguing.
Small size. A mini round baler will actually fit in the back of a pickup truck. In storage it will take up about a quarter as much space as a square baler.
Better weather resistance. If there is any chance the bales may stay in the field for any extended period of time, mini round bales will hold up much better to rain and dew. Net wrap provides an even higher level of protection.
Easy maneuverability. A mini round baler functions well in tight paddocks where baling might have been impossible before. This brings even more of a small farm's acreage into productivity.
Much lower cost. Most new square balers start at around $25,000. Our mini round balers start at just $6999, or even less as part of a package deal.
These are just some of the advantages. There may be even more depending upon the specifics of your own situation. Give us a call at 1-260-BALE-HAY – let us help you make haying independence a reality for your small-farm operation today! Click here to see all of our balers!