In order to keep the best products at the best prices stocked and ready to ship from our warehouse at all times, it is important for our company to maintain good working relationships with our manufacturing partners. In mid November, TTD owner and president, Pat Goodwin, attended EIMA–the International Exposition of Machinery for Agriculture and Gardening–in Bologna, Italy where he met with vendors of our Italian-made implements. Read on to learn about this experience and what it means for Tractor Tools Direct.
Tell us a little bit about the expo–its scope, vendors, etc.
This expo is one of the biggest in the world, and it only happens every other year. Italy is one of the leading countries for the manufacture of farm equipment, so it makes sense that it happens in Bologna. But additionally, manufacturers from all over the world are there, so it's a great opportunity to get a snapshot of the latest and greatest in agriculture. The expo grounds are huge, with over 30 buildings and also outdoor demonstration areas. Even after 3 days of attendance, I hadn't been in every building.
What was your purpose in attending?
There are two reasons why I attend. The first is to look for new products that I think could be good for our market. I found a few new implements this year, and we're excited to be rolling them out this spring!
The other reason is to meet with our current vendors. This gives us the opportunity to strengthen relationships, discuss design changes, plan order quantities, and see anything new they are producing. Although we communicate regularly by email and phone, there is still no substitute for face-to-face meetings.
What can you tell us about any new products? Will TTD be offering any of them?
When we add something new to our offerings, we're looking for items that cannot easily be found in the United States. If you can find it at your local "tractor supply" type store, it's probably not something we sell. In Europe they approach agriculture in a very different way, with much smaller parcels and often in very challenging terrain. That means utilizing smaller, more maneuverable equipment. A lot of these implements end up being a great fit for the American small-acreage farmer who wants to use a compact, modern tractor to do the work on his or her farm.
In addition to offering some larger sizes of some of our existing equipment line, with a bigger drum mower and a bigger power harrow, we will also be offering a two rotor tedder, a premium compact wood chipper, an adjustable spring-tine cultivator, and a rear transport scoop/box that we think will be a big hit in the US. We may have a few other products as well, but we've already placed orders for all of these. It will be an exciting spring here at Tractor Tools Direct! People should keep an eye out for our spring promotions of these new products.

Any fun experiences outside the show itself that you would like to share?
Well, the Italians are great hosts and they want to make sure you enjoy your stay. That means that after the exposition halls close for the evening, there is always an opportunity to join a group for a meal and good conversation. It does take a little getting used to - dinners often don't start until 8 pm, and may stretch on until almost midnight!
One dinner stood out for me. At my table there were dealers and distributors from Australia, Belgium, France, Denmark, the Netherlands, and of course, Italy. Luckily they all spoke English! It's fun to learn that although we are in different countries with different economies, we all still have a lot of similarities in how we sell and to what kinds of customers. Everyone has embraced the need to use technology to reach customers, and we all acknowledged that it is more important than ever to make sure you have 100% customer satisfaction. Ultimately, our companies' successes are built on building a positive reputation of providing quality products and outstanding customer service. These business practices are truly universal!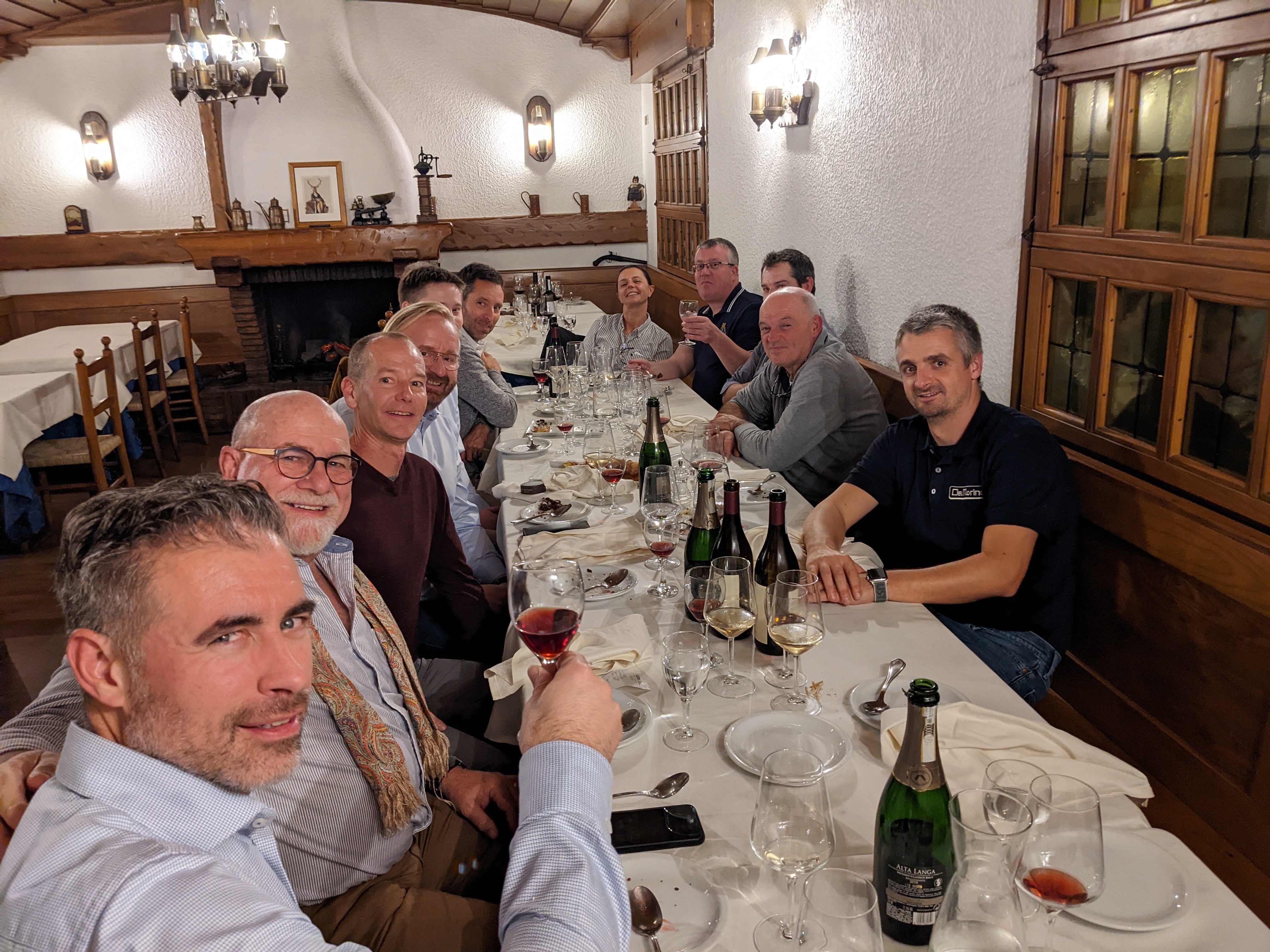 TTD owner and president, Pat Goodwin, 3rd from bottom left.
Recent Posts
If you've lived on a small farm long enough, you know that stuff breaks. Eventually even the m …

You have one of our Ibex TX31 Mini Round Balers with Twine Wrap, and now you are wondering what type …

Here at Tractor Tools Direct, we receive many inquiries about sickle bar mowers. While at one time w …