In previous blogs, we have shared information about the pine straw industry and how our equipment, especially our Ibex TX31 Mini Round Baler with Net Wrap and Ibex TX80 Belt Rake, can be used to increase pine straw production. In this blog, we are taking a different approach. Tim Collins, TTD customer and owner of Quality Pine Straw Sales in Mississippi, gives us a personal look at the industry–from the baling process he follows, to the equipment he uses, to the product his customers expect.
You can learn more about Tim's business through the following interview. You can also visit his website here. We appreciate his willingness to share his knowledge with us!
---
Could you tell us a little about your pine straw operation–name, location, history, operation, people involved?
We, Quality Pine Straw Sales, have been in business for 17 years. We began in 2004 in Northern Mississippi where we introduced pine straw to retailers, nurseries, landscapers, and homeowners. By 2016 our business had spread statewide, and we moved to the Mississippi Gulf Coast. We currently ship to all 48 continental states and use local people to do the work.
What is pine straw used for?
Pine straw is used to mulch beds of flowers etc…it helps retain moisture, it allows plants to breathe, it will not blow away or wash away, and it breaks down naturally providing nitrogen fertilizer for the soils underneath…. And pinestraw is all natural.
Could you briefly explain your process of producing pine straw?
First, pine straw fields are bush hogged, trimmed, and cut. Next, all large brush and small debris is cleared by hand. The first year we hand raked! We then use the Ibex TX31 Mini Round Baler with Net Wrap to bale the pine straw into rolls! After baling, the fields are sprayed twice a year to keep growth down. The second year we used a power rake to rake instead of hand raking. Once baled, the rolls are loaded on trailers and hauled to customers. Slash and longleaf are the two preferred pine straw varieties. Pine straw comes in round bales and square bales. Square bales are all hand baled.
What equipment do you use?
Tractors, bushings, sprayers, machine rake, IBEX TX31 and IHI balers, and more, but it's still real hands-on work.
How many bales do you produce each season?
We produce and sell around 75,000 rolls a year!
What are the benefits of mechanizing pine straw production?
This could not be done without it…….
Who are your customers and what type of product/bale are they looking for?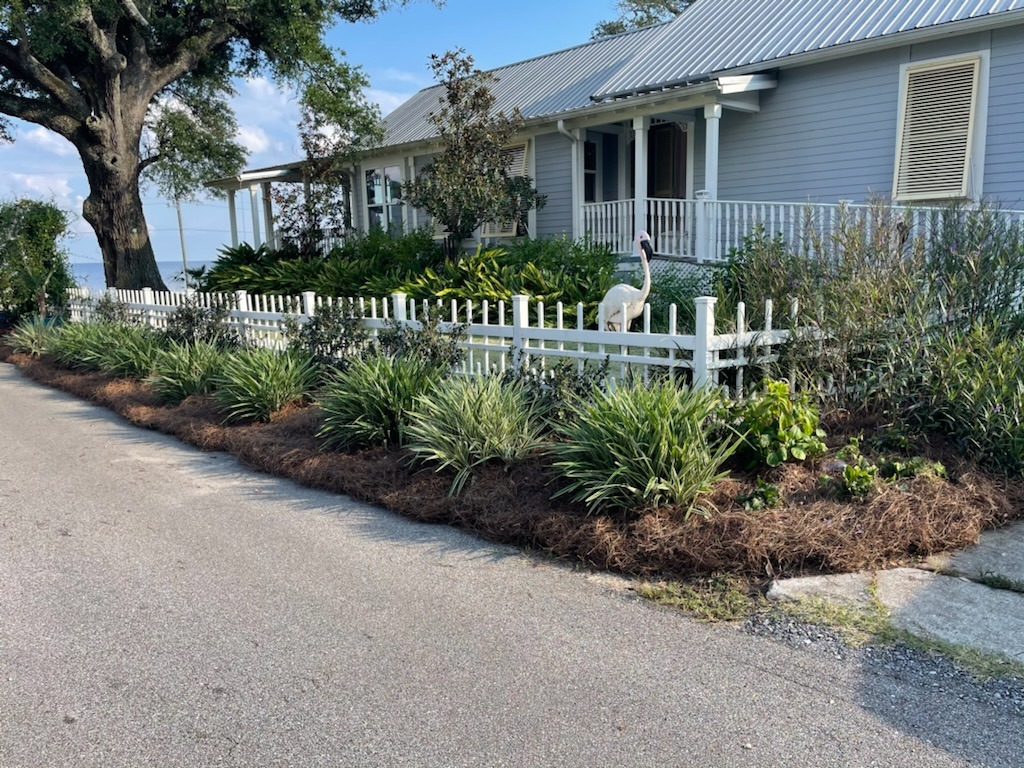 Our customers are homeowners, retailers, nurseries, landscapers, golf courses, construction companies, and on and on. They are looking for good freshly baled straw that has a good color. They are looking for good personal service year round. We help our resellers make money and provide a fair retail price for consumers. We also install pine straw for homeowners and apartment complexes. We even install pine straw for whole communities.
What, if any, challenges are facing the pine straw industry presently? How do you hope to overcome these?
As in any industry there is always someone doing it better, someone bigger always trying to buy everyone out! But no one company can supply everyone in this business. It takes good customer service, dependability, and you have to like what you do…..
One more thing, as in all other industries older generations are trying to pass the industry down and things are changing as people change. We must remain steady and consistent.
We want to help our customers, and I always find those that go away trying to find better——always call us back…..
What advice do you have for anyone thinking about entering the pine straw industry?
Get your check book out! It's not for the faint in heart! But we need more folks! Come on and join us! We always need new people getting involved.
Is there anything else you would like to share?
Our website is qualitypinestrawsales.com. We are here to serve customers both small and large. We try to help the small guys just like the big guys. We love all our customers and love to see them succeed! We love to see our retail customers happy and to see how beautiful their homes look when we get finished installing….
---
A big thank you to Tim for his interview! If you would like to learn more about how our equipment can help to improve your pine straw production, please visit our website or give us a call at 260-225-3429 today!
Recent Posts
If you've lived on a small farm long enough, you know that stuff breaks. Eventually even the m …

You have one of our Ibex TX31 Mini Round Balers with Twine Wrap, and now you are wondering what type …

Here at Tractor Tools Direct, we receive many inquiries about sickle bar mowers. While at one time w …