Here at Tractor Tools Direct, we have narrowed our hay mower inventory to exclusively drum mowers. Here's why…..
For more than a decade we have provided small-acreage farmers with the hay equipment they need for their farms, and we have learned a thing or two. During this time, we sold both sickle bar mowers and disc mowers. We found the occurrences of operator error to be greater, the cost of parts replacement to be higher, and the incidents of breakage to be more frequent with these two types of mowers than with our drum mowers. We know that time is a precious commodity on a farm–being down in the field is not an option. Our drum mowers proved to be providing the greatest return on our customers' investments–of both time and money.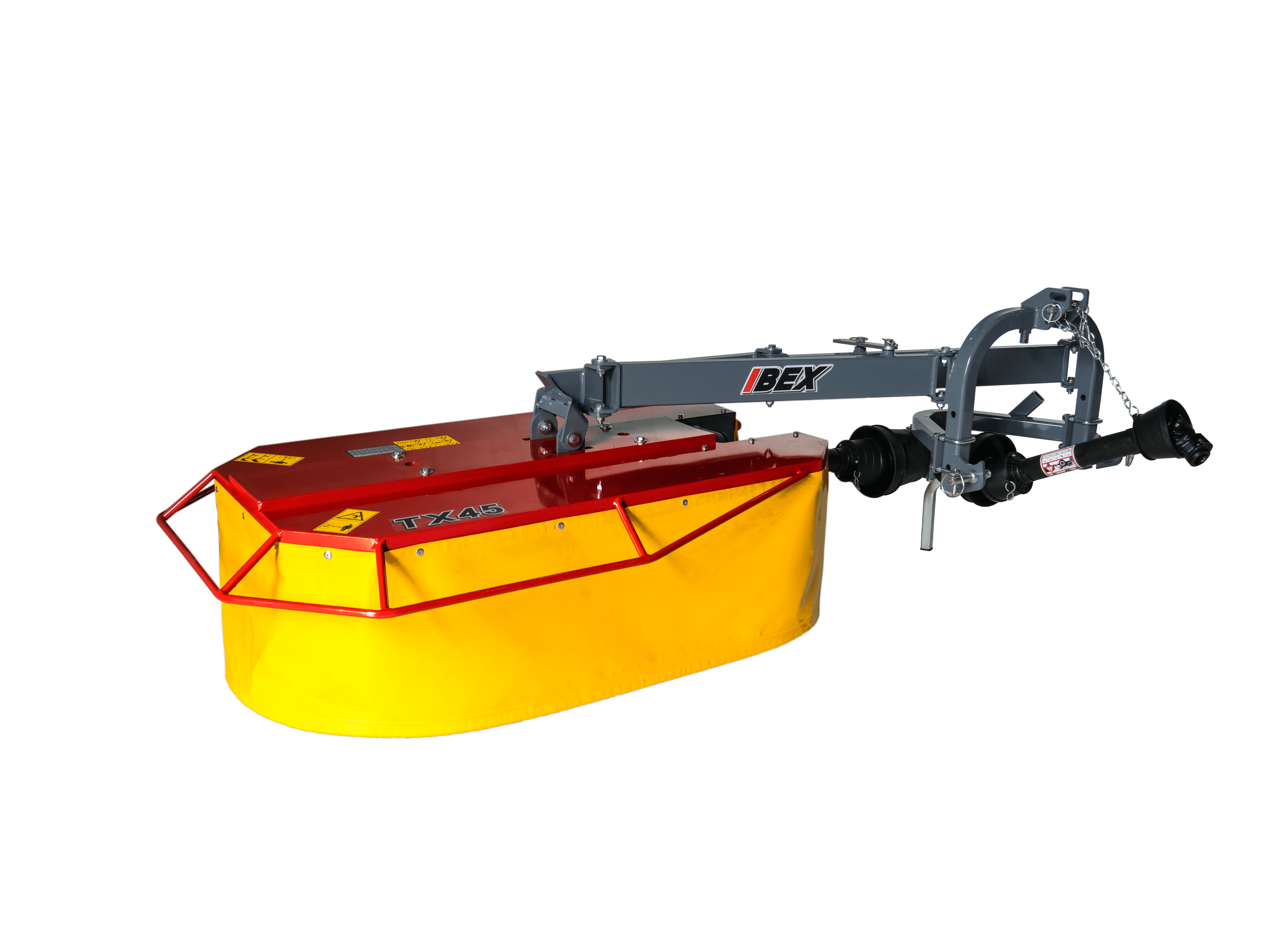 Our Ibex drum mowers are sturdy, low-maintenance machines designed for the compact tractors so popular on today's small farms. Simple and durable, they are manufactured with fewer moving parts than disc and sickle bar mowers and will cut faster and with fewer problems than other options. Their performance is unbeatable in the tough conditions of a hay field.
The design of a drum mower is mechanically much simpler than that of sickle bar and disc mowers. For nearly all hay cutting applications, it is a superior design that cuts faster with fewer problems. The drum mower design, which has been very prominent in Europe for decades, is finally gaining popularity here in the US, and rightly so.
A drum mower has only two large counter-rotating drums. These drums create a great deal of inertia, helping you to power through the thickest hay conditions. The drums are powered from above by a simple gearbox, not with multiple small gears from below like a disc mower. These drum mowers use only three or four inexpensive, reversible blades per drum. They can be easily sharpened or simply replaced when dull. Replacing a blade is a simple process. This simplicity in design makes them easier to use and maintain, while also making them more durable.
While other manufacturers continue to use belts between the main PTO and the drum gearbox, our premium drum mowers use a durable shaft-driven system. Shaft drive means no belts to come off, slip, or break at the most inconvenient times.
Ibex drum mowers also have a simple system for transport – no hydraulics required. Just release the breakaway system, manually swing the mower to the rear, and drop a pin in place to hold it there.
In the past, the only drawback of drum mowers was that they would windrow the cut crop into a tight pile that does not dry well. If you can imagine the cut grass stacked like a row of fallen dominoes, you have the idea of how conventional drum mowers windrow hay. This tight windrow cannot be directly baled because the underside will never dry. It needs to be spread out with a tedder to dry, and then raked into windrows.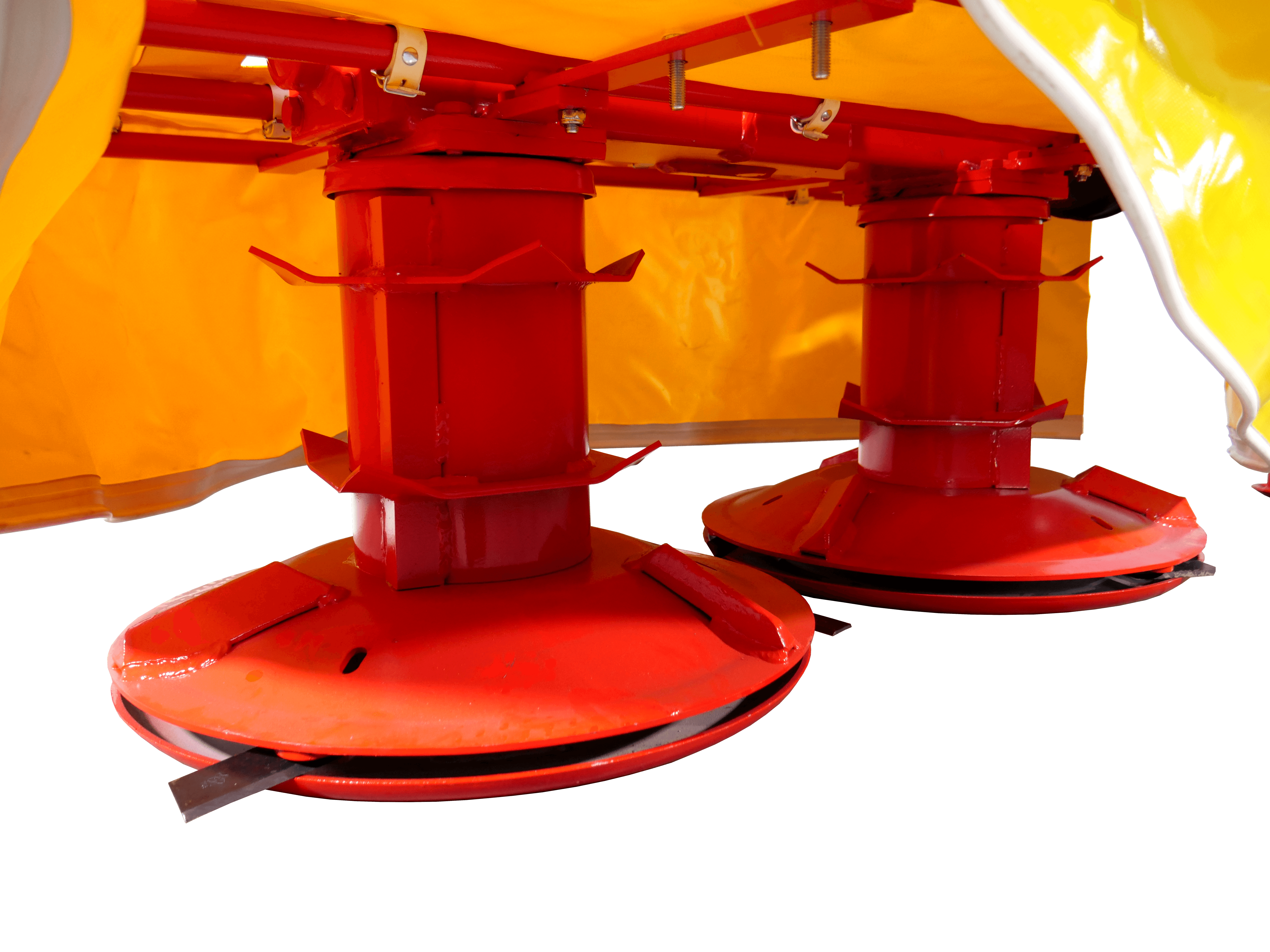 We solved this problem with the introduction of our Black Hole conditioning system. A series of teeth have been added to the neck of the cutter drum. These teeth provide a flailing action that breaks stems and ejects the hay out the back of the mower, spreading and fluffing it in the process. The result is a faster drydown time that rivals complicated and expensive haybines and discbines. Best of all, the Black hole system has no moving parts. Our line of conditioning mowers are indicated by model numbers ending with a "C" in our inventory listings.
Ibex premium drum mowers are quality crafted in Italy, with a proven design in use for over 20 years. Every drum is factory tested to be dynamically balanced, reducing vibration and prolonging machine life. When you buy an Ibex mower, you can count on a quality machine that will give you many years of trouble-free performance.
Never fear, however! If you purchased a sickle bar mower or disc mower from us in the past, we can still provide the support you need. All manuals for these implements can be found on our website as well as links to parts, and we will happily take your technical support calls when needed. We also still carry our line of Ibex flail mowers for all your tough brush and field clearing jobs.
To learn more about our line of Ibex drum mowers, please visit our website at https://tractortoolsdirect.com/hay-mowers/ or give us a call at 260-BALE-HAY today!
Recent Posts
Drum mowers, as a general category, are sturdy, low-maintenance machines designed for the compact tr …

"What is a lift kit, and why might I need one?" This is a question we get here at Tractor Tools Dire …

In our phone calls and chats with customers, many ask about the Ibex Drawbar Kit–what it does and wh …