Product Overview
This unit was used for one season to cut hay and has been fully refurbished and tested.
The TX45 drum mower is designed for the small-framed tractors so popular with today's landowner. Designed specifically for the lighter weight, narrower width, and smaller 3 point hitch of subcompact tractors, these mowers will cut faster and with fewer problems than other options.
The design of a drum mower is mechanically much simpler than sickle bar mowers. For nearly all hay cutting applications, it is a superior design that cuts faster with fewer problems. The drum mower design, which has been very prominent in Europe for decades, is finally gaining popularity here in the US, and rightly so.
A drum mower has only two large counter-rotating drums. These drums create a great deal of inertia, helping you to power through the thickest hay conditions. The drums are powered from above by a simple gearbox. They use only four inexpensive, reversible blades per drum. The blades can be easily sharpened or simply replaced when dull. Replacing a blade is a simple process. This simplicity in design makes them easier to use and maintain, while also making them more durable.
While other manufacturers continue to use belts between the main PTO and the drum gearbox, all of our drum mowers use a durable shaft-driven system. Shaft drive means no belts to come off, slip, or break at the most inconvenient times.
This machine is quality crafted in Italy, with a proven design in use for over 20 years. Every drum is factory tested to be dynamically balanced, reducing vibration and prolonging machine life. When you buy this mower, you can count on a quality machine that will give you many years of trouble-free performance.
| | |
| --- | --- |
| Model | TX45 Drum Mower |
| | |
| | |
| | |
| | |
| | |
| | |
| | |
| Min. Tractor Engine Power | |
| Max. Tractor Engine Power | |
| | |
| | |
| | |
| | |
| | |
| | |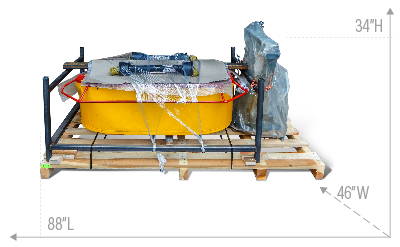 | | |
| --- | --- |
| Delivery Type | Continental US |
| | |
| Farm/Residential with Lift Gate | |
Machine ships packed for LTL freight and requires assembly.
Due to reduced staffing and required social distancing, we are not offering assembly of machines at this time. As always, we do provide written assembly instructions and help over the phone as needed.
Thanks for your understanding.
Ideally suited to subcompact tractors and older greymarket tractors from Kubota, Yanmar, and etc...

EXAMPLES:

TYM T254
Kubota BX Series
John Deere 1 Family

*These are some examples of tractors. For implement compatibility check the product specifications. Call us to ensure that your tractor is a perfect fit:

(260)225-3429. We're here to help!